Our Accounting Firm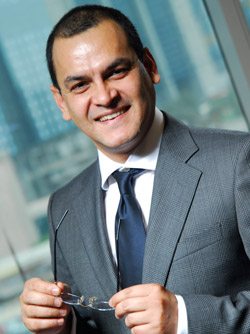 Clearwater Professional Corporation caters to the unique needs of small business professionals via our community of high skilled chartered accountants. Offering an extensive menu of chartered accounting services to help you and your small business in Oakville succeed, we provide peace of mind by way of personal relationships and efficiency, allowing you the time and energy to dedicate to growing your small business.
RIZWAN SHAKOOR C.P.A., C.A. (ON), M.A., B.COMM
For over 30 years, Rizwan has been working internationally with one of the Global Big 4 accounting firms, and world class multinational financial institutions. His areas of expertise include:
creating business strategies for business development and maintenance
implementing tax and accounting systems
managing the formation and growth of capital
A Chartered Accountant and Chartered Professional Accountant, Rizwan also has his B. Comm and M. A designations. He has held the positions of Chief Financial Officer and Chief Operating Officer in the financial services industry for the last 15 years of his outstanding career.
Rizwans spouse is an award-winning real estate professional working with Royal LePage, Deena Hasan Rizwan. They have two children, their son Zaid and their daughter Eman. Rizwan enjoys reading, cycling, golf and running, and most importantly dedicating quality time to his family.
Rizwan invites everyone in the greater Oakville area to connect with him at Clearwater Professional Corporation, and wishes all success in life, health and business!
For more than 30 years, Clearwater Professional Corporation has provided the following services necessary for small business success:
Accounting services
year-end accounting assistance
budgeting, forecasting & cash flow management
accounting software consultancy
business registration
company incorporation
CFO advisory / part-time controller services
The Clearwater advantage
We provide our clients in the greater Oakville area solid advice and outstanding customer service, saving them valuable time and money by freeing them from the arduous tasks associated with their small business financial requirements. Clearwater Professional Corporations extensive expertise and flawless professionalism, along with reasonable rates and a personal touch, are highly sought by small business owners in Oakville, and difficult to find in our competitors. Clearwaters chartered accountants offer diverse and customized accounting services, allowing our clients to rid themselves of the time-consuming number-crunching details that can slow down their small business operations, and giving them the energy to focus on what they do best – serving their customers!
Clearwaters Oakville location is an ideal place from which to provide a wide range of accounting services to small businesses in Oakville, and surrounding cities such as Mississauga, Burlington, Ancaster, Brampton, Etobicoke, Dundas, Grimsby, Hamilton, Stoney Creek, Milton and Toronto, Ontario. Please contact Clearwaters chartered accountants today to find out how we can help you with your small business accounting needs!